House Pressure Washing in Bloomington, IL
If you live in Bloomington IL, you know that your home is your castle and it needs to be taken care of. That's why we're here to help with our high-quality pressure washing service. We've been serving the area since 2019, and we know what it takes to provide the best service possible. Our team will come to your house and clean the exterior so that it looks pristine again!
Get High-Quality Pressure Washing for Your Home with Loud Bros Pressure Washing in Bloomington IL
Pressure washing is the process of cleaning your home's exterior with low-pressure water utilizing a soft-wash technique. This powerful tool removes dirt, mold, mildew, algae and other stains from your home's exterior.
Why do you need it? Because doing so will help keep your house looking in its best condition possible. If you don't pressure wash your home at least once every other year, then it can begin to show signs of wear almost immediately after being built. The result could be an unsightly appearance that drives down the value of your property and makes it harder for people to see what could be truly amazing about your home—if only someone would clean off all that gunk!
If this sounds like something you want for yourself and/or others in the Bloomington IL area who have worked hard on their homes but haven't yet had time or energy left over for regular maintenance tasks like pressure washing then Loud Bros Pressure Washing can help!
Job Description -- For this job the customer had just purchased their home and wanted to spruce up the house, we began by wetting all the vegetation to ensure that it was fully saturated and then began washing the house with our soft-wash technique. Afterward we rinsed off the house, cleaning off the algae, mold, dust, dirt and cobwebs from the exterior gutters all the way to the foundation for a complete clean of the whole house!
House Washing Gallery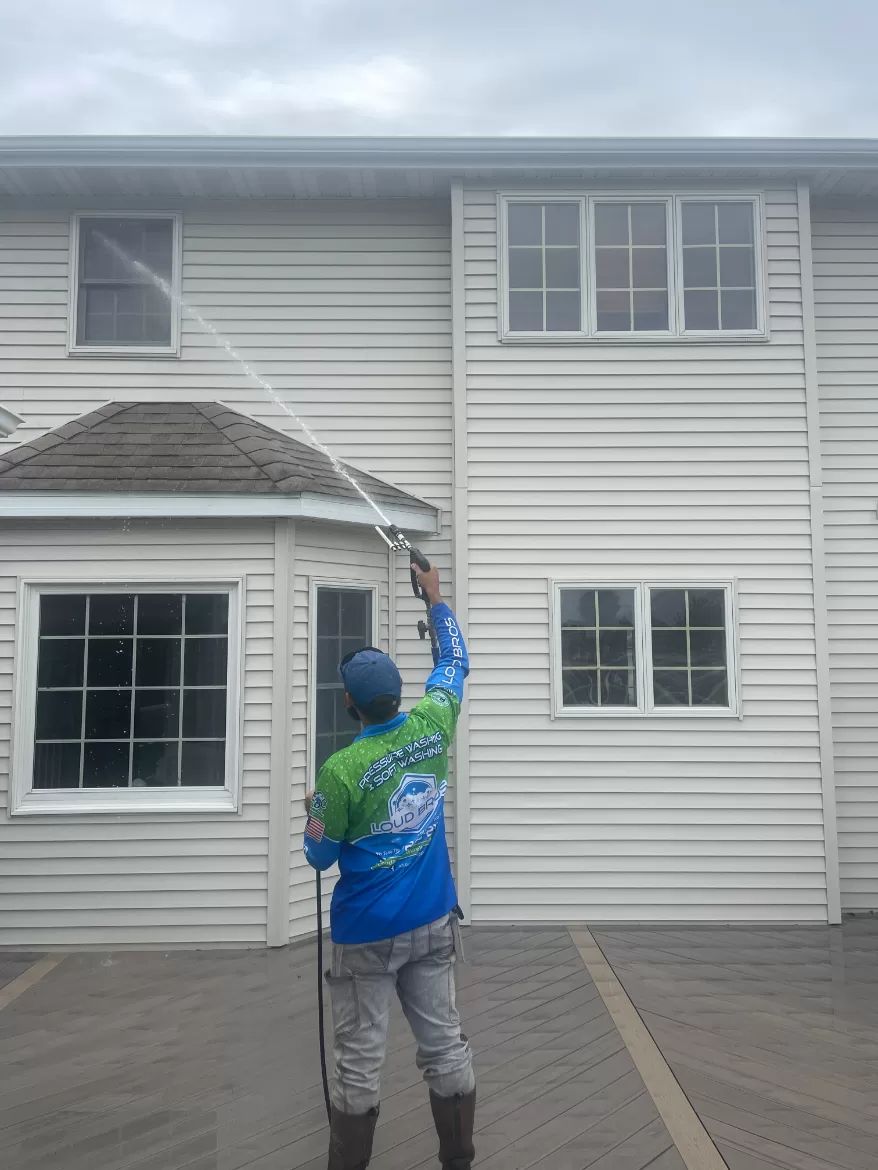 Products Used
EnviroBioCleaner, Sodium Hypochlorite
Client Review
These guys did a great job from the very first time I reached out to them for a quote until they finished the job. It was a pleasure doing business with them! I plan on using them again in the future.
What People Are Saying About Us
My house siding looks brand new. I am very happy with the cleaning the guys did. I would recommend them.
Get a Instant Quote Today With Bloomington's Top Rated Roof Cleaning & Pressure Washing Company!