We Are Professional Building Washing You Can Trust
At Loud Bros Pressure Washing, we have a reputation to uphold as the premier choice for building washing in Bloomington. We're committed to excellence for all of our pressure washing services, including low pressure washing options. We also are proud to be able to serve commercial customers in the area, in addition to our loyal residential clients.
What's the point of building washing? Doesn't the rain wash away most of the dirt and grime that accumulates over time? It would be great if this were true, but it's far from it.
In fact, rain can cause additional buildup and streaks, adding to the mess and unsightly appearance. Take good care of your business and impress your customers by making it a point to schedule building washing as part of your routine maintenance.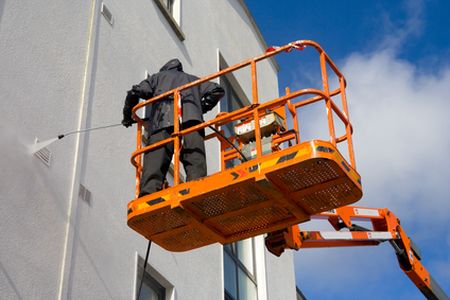 Enjoy The Benefits Of Building Washing For Your Business
Making the choice to hire a company for Bloomington pressure washing is obvious when you're talking about your home - so why would your commercial building be any different? You need the professional low pressure washing that our team can provide to protect and beautify your building. Building washing offers benefits you may not even be thinking of, or you wouldn't be hesitating:
Improve curb appeal
Lure in new curious customers
Remove harmful contaminants that pose a health hazard
Maintain the value of your investment
Reduce the frequency of repairs
When any building sits for long periods without being cleaned, the exterior develops grime, algae, mold, and more; once these problems take hold, the severity increases and rapidly. What could be removed now with thorough cleaning could be a costly repair issue in no time flat.
No Time Like The Present To Schedule Building Washing
It would be wise to realize that storefront washing is vital for a successful business; it's the perfect supplemental task to schedule between full-scale building washes. Don't lose sight of the need for all of the exterior cleaning services that your property requires to stay clean and relevant.
If you're not keeping conditions healthy and clean at your place of business, you can bet that your competition is. Where do you think potential customers will choose to go? Where do you think your own regular clients will eventually opt to spend their money?
We're in the business of making your business look good. Please don't delay a minute longer when all you have to do is contact us to arrange for building washing in Bloomington.
What People Are Saying About Us
Exactly what I needed, they did an awesome job on my gutters. They even took pictures of troublesome areas on my roof to help ensure I was well informed of potential future issues [...]
I couldn't be more pleased with the work, the professionalism, eagerness to please, communication, follow through, follow up and the price was excellent too. Would not hesitate to recommend [...]
Get a Free Quote Today With Bloomington's Top Rated Roof Cleaning & Pressure Washing Company!