Gutter Cleaning For Your Property
At Loud Bros Pressure Washing, we can't emphasize enough the importance of regular gutter cleaning for your Bloomington home. While we may be known as the top-tier resource for pressure washing, that includes our skilled handiwork in low pressure washing too.
Gutters keep the rain from washing over your head as you walk in or out of your home during a downpour, but that's not the only benefit they provide. They also help protect your home's structural integrity by keeping water away from its foundation.
Of course, your gutters won't be able to keep the water off your head or away from your foundation if they're clogged with all manners of debris. In that case, your gutters would be rendered useless — until you got them cleaned out, that is.
But cleaning gutters can be dangerous and time-consuming. If you want to keep your gutters functioning like they should without enduring the hassle of keeping them clean, call Loud Bros Pressure Washing for a professional gutter cleaning!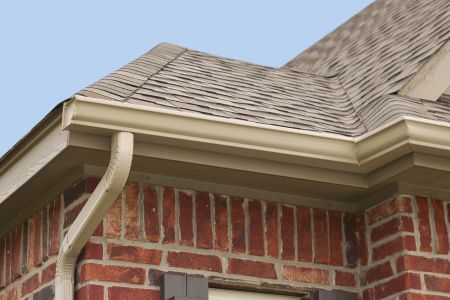 Gutter Cleaning Protects The Foundation Of Your Home
If water spills out of your clogged gutters and pools at the base of your home, your foundation could sustain fissures and cracks. Over time, these cracks can result in serious problems with your home's structural supports, leaving your home unsafe to live in.
Luckily, you can easily avoid this costly and dangerous situation. All you have to do is call us for a gutter cleaning. Our experienced and dedicated staff will provide a thorough gutter cleaning to ensure that water reliably flows away from your home's foundation, keeping it safe and intact.
We're the preferred company for pressure washing in Bloomington, and you'll easily see why. Let us provide you with our careful but thorough exterior cleaning, and you'll be a loyal customer for life.
Get Started With Clean Gutters Today!
To clean your gutters, you have to get a ladder and climb up to your roof, where you'll balance a bucket and other equipment while you dig buildup out of your gutters. Then climb down, rinse and repeat, and try not to fall down all the while. It's a slippery and dangerous ordeal that you don't have to put yourself through.
You don't have to go through this treacherous, time-consuming process, though. Instead, you can call us for a professional low pressure washing for jobs like gutters and window cleaning. Our professional team will keep your gutters clean and functional, guaranteed! Make the call to Loud Bros Pressure Washing and get the best gutter cleaning that Bloomington has to offer.
What People Are Saying About Us
Exactly what I needed, they did an awesome job on my gutters. They even took pictures of troublesome areas on my roof to help ensure I was well informed of potential future issues [...]
I couldn't be more pleased with the work, the professionalism, eagerness to please, communication, follow through, follow up and the price was excellent too. Would not hesitate to recommend [...]
Get a Free Quote Today With Bloomington's Top Rated Roof Cleaning & Pressure Washing Company!