Your Local Sidewalk Washing Specialists
There's more to running a successful business than sales of your product or service, and it's not that far of a stretch to explain that sidewalk washing has something to do with it all. To launch and maintain a thriving local Bloomington business, you need to partner with a trustworthy Bloomington pressure washing, and Loud Bros Pressure Washing is up for the challenge.
Commercial pressure washing is very much a part of the details you need to address in order to have a prosperous business. From sidewalk to building washing, the cleanliness of your exterior makes a significant impact on whether you're a success - or not.
Start-ups that neglect their building's exterior are doing themselves a disservice. The companies that understand a customer's experience begins from the moment they arrive at or see the exterior have a better chance of long-term success. Focus on making a positive first impression to win over customers, or you'll lose sight by getting too distracted by only focusing on what happens inside your commercial facility.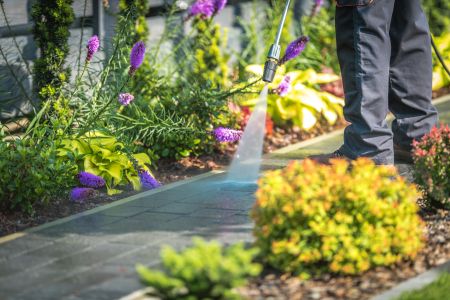 Why Clean Sidewalks Matter
Keeping the outside of your business as clean as possible is vital for your business. It helps with beautifying, protecting, and safeguarding your exterior. Even sidewalk washing plays an integral role.
While there are plenty of reasons to opt for commercial pressure washing, some of the key benefits include:
The most obvious benefit is that this helps improve the look of your exterior. This is vital because the outside of your business is what makes the first impression.
The appearance of your building also impacts staff morale. Having a clean work environment is going to motivate your employees.
A filthy exterior carries over to the interior. Contaminants on the outside of your building find a way to the inside, making for unhealthy conditions.
Get Serious About Your Sidewalks
If you are ready to get proactive about getting the exterior of your business clean, give the Loud Bros Pressure Washing crew a call. We take great pride in the work that we do, which shows in the results that we can get for every customer we work with.
Pressure washing should be a regular part of your routine exterior maintenance; it's not just about repairs. Keeping your exterior clean helps reduce the likelihood of needing frequent repairs. Make the call today, and let's quickly get you the sidewalk washing you need for your Bloomington business.
What People Are Saying About Us
Exactly what I needed, they did an awesome job on my gutters. They even took pictures of troublesome areas on my roof to help ensure I was well informed of potential future issues [...]
I couldn't be more pleased with the work, the professionalism, eagerness to please, communication, follow through, follow up and the price was excellent too. Would not hesitate to recommend [...]
Get a Free Quote Today With Bloomington's Top Rated Roof Cleaning & Pressure Washing Company!