House Washing For Your Area Home
Loud Bros Pressure Washing is the house washing resource in Bloomington to trust when you need no pressure washing. However, if you're wondering what that means, then pay attention.
Your roof and siding are two of the largest installations in your home, and they are also two of the most delicate - at least when it comes to pressure washing, they are.
This presents a problem when your roof and siding become dirty because when they become dirty, it can't help but get noticed. A filthy home is an eyesore, but traditional power washing isn't necessarily the answer.
Using no pressure washing as your approach to house washing, you get a clean home that's not also damaged. Our primary focus is always to deliver the best results for a streak-free and damage-free clean.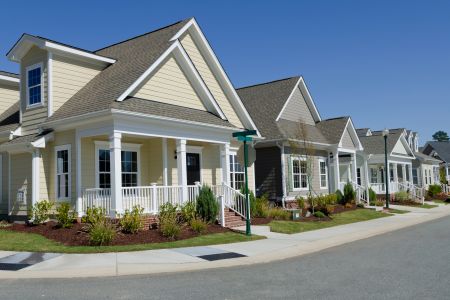 Keeping Your Home Looking Picture Perfect
Despite being one of the most important protective barriers of the home, your siding is also one of the most sensitive when it comes to water pressure. Although quality siding is made to withstand harsh weather and the elements, there's no reason to put it to the test just to clean it.
The siding can easily come loose under high pressure washes. You may end up creating cracks in the siding, which can immediately make your home much more vulnerable to rain and the elements. Not only will this lead to leaks, mold, and rot, but it also makes it harder for the home to retain heat in the winter.
You don't have to worry about the effectiveness of our house washing method. We use a mix of low pressure with unique detergent targeting algae and other pollutants.
You get a thorough but safe cleaning process, and because it uses less water than a power-washing method, it's even more environmentally friendly. For the best pressure washing in Bloomington, contact us even if the service is more of a no pressure washing approach.
Beautify And Protect Your Home Sweet Home
Your home is your castle, your domain, your most valuable asset, and most important investment. Of course, you want to take care of it with pressure washing or whichever cleaning method is deemed most appropriate for the surface being cleaned.
From gutter cleaning to washing down the rooftop, we do it all. We remove gunk and grime from your exterior:
Algae
Moss
Lichen
Mold
Pollen
Our services should be a regular part of your home maintenance routine. Call us today for a professional house washing service in Bloomington and surrounding areas.
What People Are Saying About Us
Exactly what I needed, they did an awesome job on my gutters. They even took pictures of troublesome areas on my roof to help ensure I was well informed of potential future issues [...]
I couldn't be more pleased with the work, the professionalism, eagerness to please, communication, follow through, follow up and the price was excellent too. Would not hesitate to recommend [...]
Get a Free Quote Today With Bloomington's Top Rated Roof Cleaning & Pressure Washing Company!