Peoria's Leader in Pressure Washing Services
When you think of premium pressure washing in Peoria, we hope you'll think of Loud Bros Pressure Washing. We've earned our impeccable reputation by providing service excellence, right down to the free quote we offer. There's only one tried and true industry specialist in the area that promises safe but effective cleaning, and that's us.
We use power washing when that's the best method or soft washing when a job requires more care. Either way, we get the job done while exceeding your expectations.
We deliver curb appeal and then some. However, keeping your home's exterior in good condition is the primary goal. Our exterior cleaning will help ensure longevity and reduce repair needs for siding, gutters, roofing, and more.
We leave behind a spotless, streak-free exterior you can practically see your reflection in. The sooner you call us for service, the better off your Peoria home or business will be.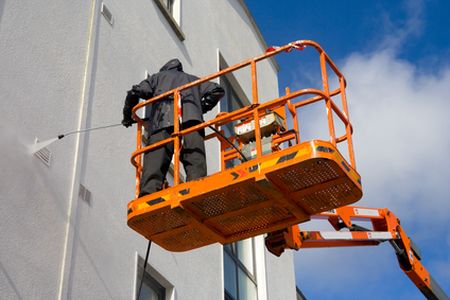 Peoria's Preferred Company For High-Quality Pressure Washing
Every Peoria homeowner should have one main objective - keep the place in tip-top shape. Your home is your biggest and most important investment and taking care of it is job number one. Sure, it helps that power washing also helps improve curb appeal, but protecting your home from the elements is the primary goal.
Unfortunately, some homeowners procrastinate too long when it's time to schedule their exterior cleaning. Others make the erroneous decision to hire an inferior company or try to DIY the work. We know you're better than that; you're a savvy homeowner and a wise consumer, and you're calling us to take care of services like:
Driveway Cleaning
Roof Washing
Gutter Cleaning
Plus More!
Put an end to the contaminants collecting on the outside of your home by calling our experts to fight the good fight.
Roof Washing For Optimal Protection For Your Peoria Home
We want to help you get the professional care you need for your roofing system. Loud Bros Pressure Washing is the preferred resource in the area for roof washing that goes above and beyond. Your roof is the first line of defense against the elements, and our work helps keep it in the best shape possible.
Our roof-washing process is no pressure washing; we use cleaning solutions to get your roof clean instead of potentially damaging it with high-pressure water spray. It's time to contact us in Peoria to schedule your pressure washing or roof washing today.
What People Are Saying About Us
There are currently no reviews or testimonials for Peoria. Check back soon!
Get a Free Quote Today With Bloomington's Top Rated Roof Cleaning & Pressure Washing Company!